Buses: the original social network to tackle loneliness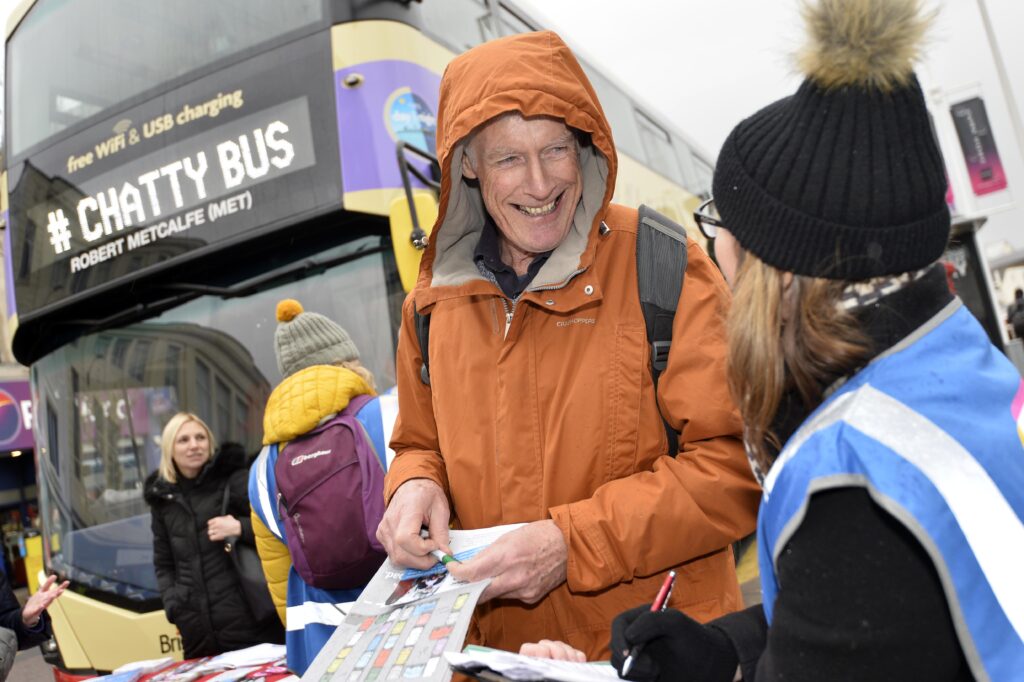 We asked Hub member Katy Taylor from leading transport company the 'Go-Ahead group' to to tell us about the work they have done to use their bus network to tackle loneliness. In March, MPs and peers from the All-Party Parliamentary Group (APPG) on Loneliness said that the public needs more "safe and welcoming" public spaces to help them reconnect with others.  In particular they said that new housing developments and public transport routes should be "loneliness proofed" and more public toilets and benches introduced to help people reconnect as coronavirus restrictions ease.  Katy explains what the Go-Ahead group did in the blog post below.
The Chatty Bus 
When was the last time you struck up a conversation with a stranger on a bus? It may have been a while – and you might even shudder at the prospect – but it's not as outlandish a question as you may think. Three out of ten Britons typically go for at least a day a week without speaking to anybody else. And nine million say they often, or sometimes, feel lonely – a staggering figure, which is higher than the population of Scotland and Wales combined.
That's why The Go-Ahead Group has pioneered a "chatty bus" initiative in cities including Brighton, Norwich, Plymouth and Oxford, using a parked bus as a hub – with community events, sing-a-longs and free tea or coffee. On some routes, we've even deployed chatty bus ambassadors to get aboard and encourage conversations. Buses have sometimes been dubbed 'the original social network'. And they are indeed fundamentally social spaces – they must be affordable, accessible and reliant on mutual courtesy to work effectively. And, particularly for the 24% of households which don't have a car, they are crucial lifelines to stave off isolation.
You get people of all ages and backgrounds on buses. But they're particularly widely used by older people, or those on lower incomes – people in the lowest income quintile in the UK travel twice as far by bus, annually, as those in the top quintile. And nearly eight out of ten job seekers have no access to their own vehicle, relying on public transport to get to interviews. These are groups who are particularly prone to isolation.So what else can transport operators do to help combat loneliness?
It's important to ensure buses are accessible for demographics who are more likely to be isolated – including people using wheelchairs or mobility aids, and by making announcements both audibly and visually. Adaptations such as lighter coloured bus floors, too, are helpful to passengers who have dementia.
Just as important is good training. Courses provided by Go-Ahead and many other bus operators include training for drivers in awareness of hidden disabilities, of dementia and in identifying people who are vulnerable, or who need help. We try to make sure our drivers are patient, friendly and take the time to chat with those want to.
Finally, ensuring that buses reach as many people as possible is critical. Unfortunately, bus patronage has been falling and in some parts of the country, bus routes have been withdrawn – the BBC has calculated that the bus network has shrunk by about 8% in a decade. This is due, to a large extent, by a squeeze in funding from local authorities, which are supposed to fund routes that aren't commercially viable but have been hit by austerity.
The Government's recent national bus strategy, which pledged £3 billion to build back services, is a giant step in the right direction. It means authorities with a plan to improve local services can bid for funding – and the scheme encourages councils to work with operators and passengers to come up with solutions that will reach as many people as possible.
If we want to tackle isolation and combat Britain's epidemic of loneliness, then quality, affordable public transport is essential. Nobody should feel trapped in their home.
Katy Taylor is Chief Strategy and Customer Officer at The Go-Ahead Group.