East London Cares: creating intergenerational connections through volunteering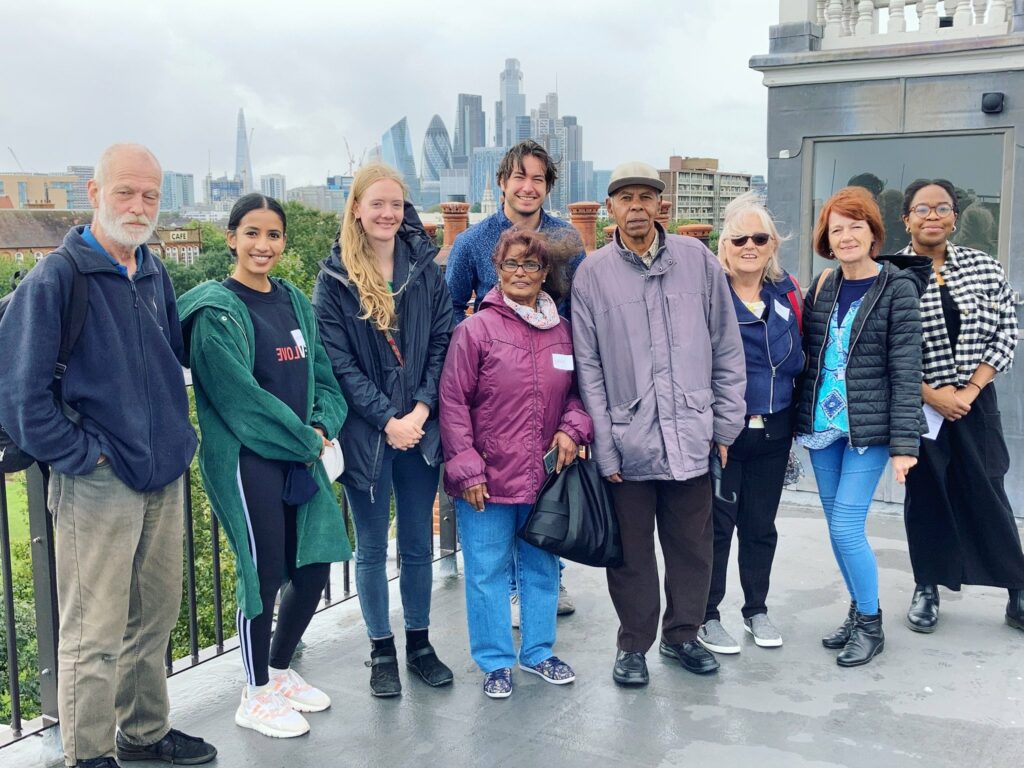 How do community volunteering programmes help tackle loneliness and social isolation? We hear from Roxi Rustem, Head of Programmes at East London Cares, on how they bring older and younger neighbours together through volunteering. 
About East London Cares
East London Cares is a community network of older and younger neighbours, hanging out to share time, laughter and experiences, across Hackney and Tower Hamlets. We do this to challenge perceived intergenerational divides, chip away at barriers to social connection, and to tackle loneliness and isolation across both age groups. Older and younger neighbours come together in different ways, through our Social Clubs, Love Your Neighbour and Outreach programmes. 
East London is an area full of creativity, character and community, with a rich history teamed with a rapid pace of change. Many of the older neighbours in our network have lived in Hackney or Tower Hamlets for decades, and can tell an abundance of stories about the changing landscape of their communities. But while that change can be exciting, it can also mean that  people feel left behind, isolated, and no longer feel welcome in spaces they've called home for so long. 
A range of activities
Our volunteers (or younger neighbours) are often people in their 20s and 30s who have made the move to the city for work or friends. There are a plethora of things to do, and everything is just a Google search away, but even with all of those connections it can be a lonely experience for younger people who don't  have deep roots in their new home town. With COVID-19 plunging us all into lockdowns, feelings of loneliness and isolation are much more familiar across both age groups. And so, by bringing older and younger neighbours together, through social clubs or one-to-one friendship, we aim to reduce loneliness across our community. What's more, when people join their first club with us, they often discover that they have more in common with their neighbours than the perceived differences, like age or gender, that can divide us.
Social Clubs are free group activities that happen throughout the week, online, over the phone and in different venues across east London. Club themes can range from a chat over a coffee to a creative writing workshop, or a drag karaoke night to a documentary discussion club. Through social clubs, neighbours share conversation and new experiences, often making friends with people who they may never have crossed paths with. Jill (71) has been attending social clubs for two years, and when asked what keeps her coming back she told us, "I think it's that feeling of belonging, of being part of the community. That feeling that I exist and to be noticed."
Our Love Your Neighbour programme matches older and younger neighbours for one-to-one friendship through weekly visits or phone calls. Matches are made based on location, personalities and interest, in the hope of building long term, mutually beneficial friendships. Like Maggie (90) and Lewis (32), who were matched back in 2019 and have been friends ever since. The pair chatted regularly over the phone through lockdowns, and recently enjoyed an Aperol Spritz together on Broadway Market.
Get involved in East London Cares
East London Cares turns two this month, and in the last two years we've welcomed nearly 1,300 older and younger neighbours, as well as community partners, to this ever growing and vibrant network – with each person bringing their own unique personality and energy to the community. We host volunteer inductions every month, so if you're over 18 and under 65 and would like to meet your older neighbours, visit eastlondoncares.org.uk/get-involved to sign up. We can't wait to meet you!