Loneliness Beyond Covid: applying lessons from the pandemic for a less lonely future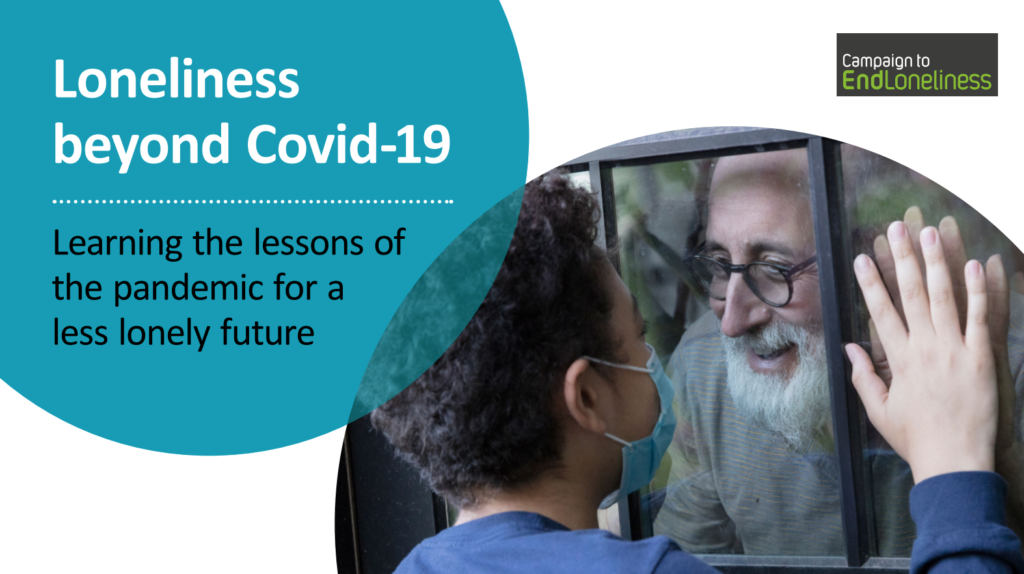 Robin Hewings discusses findings from the Loneliness Beyond Covid-19 report by the Campaign to End Loneliness – the biggest ever review of the impact of Covid-19 on UK loneliness and what we can expect in the future. 
Loneliness Beyond Covid-19
Restrictions on social interaction as result of the Covid-19 pandemic opened everyone's eyes to loneliness and the importance of social connections for our own wellbeing. Being unable to see our loved ones or take part in social activities meant that many of us experienced what it is like to feel lonely. However, although restrictions were universal, the extent of loneliness experienced was highly unequal.
In the Loneliness Beyond Covid-19 review, we found that people with strong connections were in fact likely to feel less lonely as they spent more time in their local community and with family. In contrast, the pandemic exacerbated existing inequalities as people who were already lonely were likely to get lonelier, as were those at greater risk of loneliness because of factors such as health, income, ethnicity, sexuality or gender identity. 
We also found that organisations that were responsible for addressing loneliness experienced an increase in demand for their services during the pandemic. A number of factors influenced this trend. Firstly, a coordinated response to loneliness during the pandemic helped to identify people who were already lonely but not previously known to services. Secondly, the wider impact of Covid-19 meant that more people were at risk of chronic loneliness due to illness or job loss. Lastly, people who were already lonely experienced deep isolation, and changes in their circumstances due to the pandemic meant they became even more lonely. 
Data from the Office for National Statistics (ONS) shows that up to a million more people became chronically lonely as the lockdown continued. This meant that by the beginning of 2021, 3.7 million adults were experiencing chronic loneliness (defined as "often" or "always" feeling lonely).
We anticipate that many people who were lonely during the pandemic will recover spontaneously as they return to work, leisure activities, and reconnect with friends and family. However, there are grounds for concern about those who face more barriers to reconnection, such as mental or physical health issues, or unemployment. We're particularly concerned about people who were already experiencing chronic loneliness before the pandemic. 
In the wake of the pandemic, our top three recommendations are that: funding is provided to maintain services and support for people experiencing chronic loneliness; support is particularly targeted at the most disadvantaged communities where loneliness is a particular risk; and that there is investment in a 'connected recovery' to strengthen community capacity with funding for green spaces, high streets and meeting places, as well as transport and digital connectivity. 
The pandemic has opened up conversations on the serious issue of loneliness. If we focus on loneliness as we move beyond the pandemic, we can support those who are already lonely and pursue a truly connected society.
About the Author
Robin Hewings is Programme Director of the Campaign to End Loneliness. 
The Campaign to End Loneliness believes that people of all ages need connections that matter. The Campaign supports evidence-based campaigning, facilitate learning on the front line and connect different parts of the loneliness community such as academics, front-line practitioners, decision makers and businesses.
Follow the Campaign to End Loneliness on Twitter @EndLonelinessUK