Loneliness: The next five years conference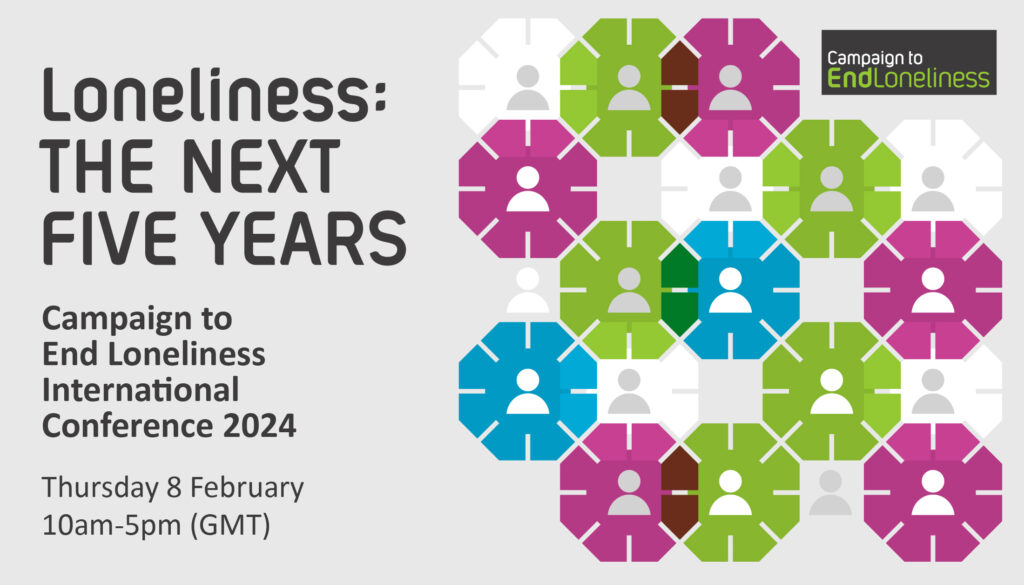 The Campaign to End Loneliness shows how you can get involved and showcase your own work in the organisation's upcoming conference on Thursday 8 February 2024. 
Loneliness: the next five years
Our online conference is the largest international conference dedicated to tackling loneliness. It brings together delegates from civil society, business, academia, and politics to celebrate the people and organisations who are making a difference, showcasing innovative approaches to tackling loneliness from across the world.
In 2018, the UK Government appointed the world's first minister for loneliness and launched its first loneliness strategy. Five years on, there has been concerted action by government and all parts of society, as well as a global pandemic, that led almost all of us to live in physical isolation and to reflect on the meaning of our relationships.
As we look forward to the next five years, we must, as a community of people working on loneliness, continue to move the issue forwards.
Key themes and topics
Under the overarching theme of Loneliness: The next five years, we have designed the conference to explore key issues identified by the loneliness community that will be crucial in developing our understanding of what works in tackling loneliness as we look forward to the next five years. With a combination of keynotes, panels and poster presentations, the conference will explore themes and topics such as:
The perspective of leading politicians

The future of digital interventions

Loneliness inequalities

The experience of loneliness amongst marginalised communities

Young people and loneliness

The built environment and creating a spread of inclusive, accessible spaces

Arts and creativity
Showcase your work in addressing loneliness
As plans for the conference continue take shape, we invite you to enter our poster competition to showcase your work in addressing loneliness.
The poster competition is open to all and last year's conference saw a wealth of entries, really demonstrating the amazing research and practice happening globally to address loneliness. For inspiration, you can watch the 2023 winning poster presentation entries who were selected for presenting innovative loneliness projects or research, and communicating this work in an engaging and accessible way.
In oder to submit your poster presentation for the 2024 conference, please complete the submission form by Monday 4 December at 9am.
Submissions will be reviewed by a panel and the very best presentations will be asked to present their work at our conference. This session will take place between 1pm – 2pm on that day.
All submissions will be exhibited on our conference microsite, and we are delighted to say the winning entries will also receive a copy of Dr Rhada Mogdil's book Know Your Own Power.
Join us and be part of the conversation
You can now book your place for the conference and join us as we look ahead to the #NextFiveYears of tackling loneliness.
The event will take place online via Zoom, and you can purchase tickets at a cost of £20 per person. A limited number of concessionary tickets are also available if this cost is prohibitive to access. If this applies to you, please email us at info@campaigntoendloneliness.org.uk
We look forward to welcoming you as part of this global movement.