Sharing people's lived experience through participatory arts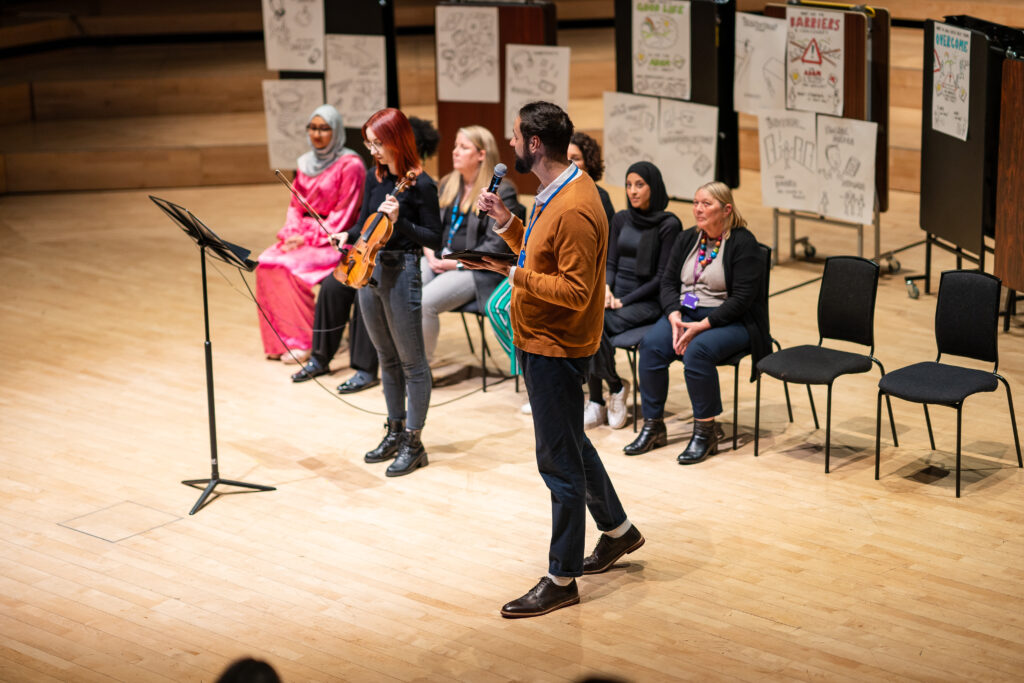 El Smithies, Relationship Manager at participatory arts organisation Made by Mortals, explains how they are building a community of creative citizens to bring about change.
Connecting people, creating change
Made By Mortals is building a community of creative citizens which includes: professional artists (e.g. musicians, actors, writers); people who work in health and social care; university researchers; and 'experts by experience' – people looking to share their lived experience to help other people.
Together this community of people connect and use their creativity, skills, and experience to help each other to bring about change. Our creative community:
Provide high-quality arts and cultural experiences
Improve health and well-being for themselves and others
Challenge stigma and health and social inequalities
We do all this by building equal relationships between people to 'bring people's experience to life' through participatory arts practice. Participatory art is an approach which engages public participation in the creative process. Everyone collaborates to become co-authors, editors, and composers. The art we create together includes podcasts, films, and original music theatre shows.
Our two main programmes of work are both co-produced: Armchair Adventures, our intergenerational podcast created by people over 60 for primary school-age children; and 'Hidden', where we challenge people to walk in another person's shoes.
Our 'Hidden' programme
This all started in lockdown where we brought to life a series of stories and characters, made by people in social isolation on equipment they had to hand. Each character is experiencing multiple challenges and barriers including self-neglect, mental/physical wellbeing, and loneliness. The programme is going from strength to strength since lockdown restrictions eased.
"It gives you a sense of belonging and I feel a part of society in which I used to feel like I didn't fit in"
– 'Hidden' participant, contributing from a mental health unit
Interactive audio case studies
One element of the 'Hidden' programme is a co-produced immersive audio experience that challenges people to explore a character's hidden life. We have co-produced these audio plays with people with lived experiences of financial exploitation, mental health conditions, dementia, and domestic abuse.
The groups of people with lived experience come together and use their voices, insights and experiences to create and build the character. We make these episodes interactive too, so the listener connects on a more human level to what they are experiencing. Each episode is accompanied by an additional piece of audio which captures discussion and debate between health and social care practitioners and commissioners and people with a diverse range of lived experience.
Through participatory arts practice, our creative community gain skills in drama, creative writing, music-making, tech, and performance, as well as improving their mental wellbeing. Our impact data shows that the people co-producing these resources have felt a benefit of being involved in the production with 100% of participants reporting feeling less lonely and 82% feeling they have made new connections with others.
Immersive workshops
Alongside the audio plays, we use a mixture of music, theatre and film to create immersive performances and workshops which then help to provide a deeper insight into the theme in a meaningful and accessible way. Our aim is that the co-produced work acts as a catalyst for positive change in health and social care but also within our communities.
Co-production, co-design and community are at the heart of what we at Made By Mortals do. We provide a service that 'brings people's experience to life' through creativity and in doing so helps life make a bit more sense and the world a bit more of a happier, fairer and less lonely place to be.
All episodes of 'Hidden' will be freely available later in the year from our Made By Mortals website.